Prompt Announcement on the Public Transfer of C&G Medical Shares to be Listed on the National Stock Transfer System
---
Author:
Source:
Release Date:2020-10-30 16:55
Reminder Announcement on C&G Medical's Shares to be Listed for Public Transfer on the National Stock Transfer System The Company's application for public transfer of shares has been approved by the China Securities Regulatory Commission. The Company's shares will be listed for public transfer on the National Stock Transfer System from August 15, 2013.
Stock short name: C&G Medical, stock code: 430300.
The public transfer prospectus and annexes have been disclosed on July 31, 2013 on www.neeq.com.cn或www.neeq.cc, the designated information disclosure platform of the National Stock Transfer System, for investors' perusal.
The listing of Centron Medical's shares on the National Small and Medium-sized Stock Transfer System for public transfer will be conducive to further improving Centron Medical's corporate governance structure, raising development funds through the capital platform, establishing incentive mechanisms, stabilizing and attracting outstanding talents, and achieving sustainable business development.
This announcement is hereby made.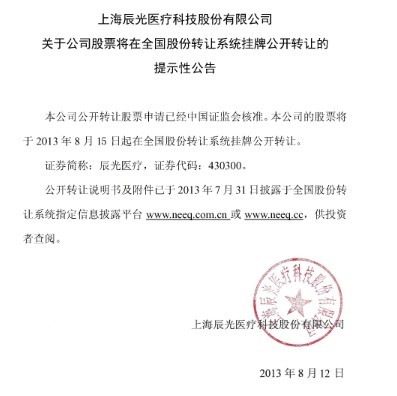 Shanghai Centron Medical Technology Co.
August 20, 2013
---