Highlights of C&G Medical New Year Annual Meeting
---
Author:
Source:
Release Date:2020-10-27 17:12
On the evening of January 6, 2017, Centron Medical held the annual grand "Beyond Dreams, Casting Brilliance" New Year's Conference for all employees, which was opened in a cheerful atmosphere.
The conference was hosted by Dr. He, the director of the company's international business department, and Dr. Wang Jie, the chairman and general manager of the company, delivered an opening speech and addressed the conference. staff who have contributed in the development and production of new products, and expressed gratitude to the General Department and Securities Department who worked hard to prepare for the successful holding of this annual meeting. He encouraged everyone to make further efforts in the new year and work hard to achieve higher work goals, and finally, he wished everyone good food and good drink and a good New Year!
The atmosphere of the whole annual meeting was warm, and a number of impromptu games made everyone laugh, and the lucky draw activity in the meeting made everyone excited and pushed up the joyful atmosphere of the venue.
Each department took the opportunity to greet each other, toast each other, thank each other for the support and assistance in the past year and encourage each other to help each other in the new year, enhance the team spirit and promote the friendship and collaboration between departments.
The meeting adopted novel background images and music, using video technology to review the development history of the company and look forward to the future development direction, using staff photos to show the wonderful moments of each employee in a cycle. The chairman and general manager, Dr. Wang Jie, personally went up to give birthday wishes to a dozen employees who had their birthdays in January, which pushed the atmosphere of the annual meeting to the climax again and set the main tone of the annual meeting which is festive, warm and upward.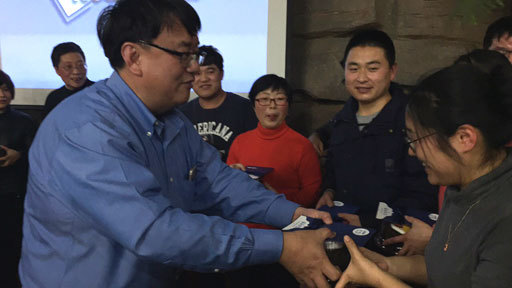 ---